Privacy Policy
Gold Coast Local Website Designer Privacy Policy – Keeping your personal information safe.
Your personal information and privacy is important to us. We have a firm and continuing commitment to preserving the privacy of personal information provided by our website visitors. Our Gold Coast Local Website Designer privacy policy is outlined below
Any personal information you may provide, either by buying our products or signing up for free products, will be stored with a high level of security. In addition to details you may provide, we may record your IP address to protect ourselves against accusations of spam if you forget that you have signed up with us. Your IP address is a number that is used by computers on the network to identify your computer.
Your credit card information is not held on our Gold Coast Local Website Designer computers, unless you specifically email it to us.
Normally we do store your your e-mail address if you specifically give it to us. It may be needed to advise you of product upgrades that you are entitled to download free, or it may be used for the purposes of e-mailing information to that you have specifically asked for. Gold Coast Local Website Designer also retains the content of e-mail messages you send us, together with our responses, for record purposes. These records are password protected.
None of your information is shared with others unless required by law.
Similar to other commercial Web sites, our Web site utilizes a standard technology called "cookies" (see explanation below, "What Are Cookies?") and web server log files to collect information about how our Web site is used. Information gathered through cookies and Web server logs may include the date and time of visits, the pages viewed, time spent at our Web site, etc.
A cookie is a very small text document, which often includes an anonymous unique identifier. When you visit a Web site, that site's computer asks your computer for permission to store this file in a part of your hard drive specifically designated for cookies. Each Web site can send its own cookie to your browser if your browser's preferences allow it, but (to protect your privacy) your browser only permits a Web site to access the cookies it has already sent to you, not the cookies sent to you by other sites. Browsers are usually set to accept cookies. However, if you would prefer not to receive cookies, you may alter the configuration of your browser to refuse cookies. If you choose to have your browser refuse cookies, it is possible that some areas of our site will not function as effectively when viewed by the users. A cookie cannot retrieve any other data from your hard drive or pass on computer viruses.
In some cases, Gold Coast Local Website Designer may use cookies to assist you in logging in.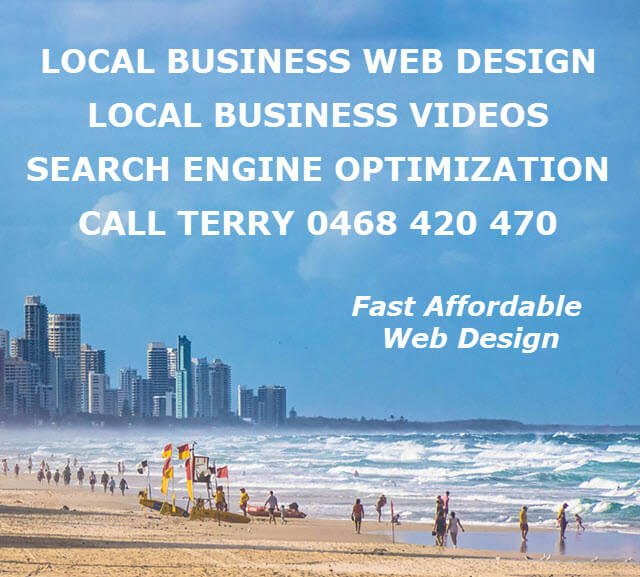 Gold Coast Local Website Designer does not share, sell, lend or lease any of the information that uniquely identify a subscriber (such as email addresses or personal details) with anyone except to the extent it is necessary to process transactions or provide services that you have requested.
Gold Coast Local Website Designer is not responsible for the practices employed by Web sites linked to or from our Web site or the information or content contained therein. Often links to other Web sites are provided solely as pointers to information on topics that may be useful to the users of our Web site. Please remember that when you use a link to go from our Website to another web site, our Privacy Policy is no longer in effect. Your browsing and interaction on any other web site, including web sites, which have a link on our Website, is subject to that Web site's own rules and policies. Please read over those rules and policies before proceeding.
Children are not eligible to use our Gold Coast Local Website Designer services unsupervised and we ask that children (under the age of 14) do not submit any personal information to us. If you are a minor, you can use this service only in conjunction with permission and guidance from your parents or guardians.
We may change this Gold Coast Local Website Designer Privacy Policy from time to time. If/when changes are made to this privacy policy, we will email users who have given us permission to do so. We will post any changes here, so be sure to check back periodically. However, please be assured that if the Privacy Policy changes in the future, we will not use the personal information you have submitted to us under this Privacy Policy in a manner that is materially inconsistent with this Privacy Policy, without your prior consent.
By using our Gold Coast Local Website Designer Web site you consent to our collection and use of your personal information as described in this Privacy Policy. We reserve the right to amend this privacy policy at any time with or without notice.