WordPress For Small Business Websites is the key to having a professional looking website – This article explains why. WordPress, a popular content management system (CMS), can be a terrific option for building your website. Because WordPress is a popular and versatile CMS, it can assist small businesses establish an online presence with little trouble. Here are some reasons why your small business should use WordPress.
WordPress is a Low Cost route to success.
WordPress is reasonably easy to use.
WordPress has numerous Business Themes and Plugins – Something suitable for your business almost certainly exists already.
Maintenance is easy to carry out and can be automated to some degree.
Search Engine Optimisation (SEO) to help a website rank higher in search engine results can be simplified with Plugins like Yoast SEO.
Regular Backups to keep you safe are easy to do.
WordPress is Open Source (no cost)
Having a WordPress-based website can help you save on development costs, as the CMS is free and open-source and all WordPress users have to pay for is hosting, a domain and someone to put everything together. Since everyone can access the source code, you may have no need of a specialized web developer to build your website. You can learn WordPress by spending some time working with the system and watching Youtube videos.
However, given our low costs (including rental websites) you may want to use our expertise and use your time for what you are good at.  WordPress For Small Business Websites is our Speciality!
Any small business owner can start a professional small business website using the various free themes and plugins developed by the WordPress community. Despite the fact that free tools usually come with limitations, most are sufficient to get the job done.  The installation and configuration of WordPress is quick and simple. Using the standard WordPress installer, you can install WordPress in a few minutes.
You simply need to input crucial information, starting with a password and a username for the WordPress admin panel. Users may also need to update some of the technical configurations, such as the CMS version, the chosen Theme and selected Plugins. The default settings, however, are more than adequate to start up your WordPress website.
The WordPress user-friendly interface makes building and managing a site reasonably simple. While it may require a bit of learning, WordPress is a very user-friendly System, more so than most other open-source CMS products. And of course, we can do this for you at a very affordable price.
The functionality required to manage your website is accessible via the WordPress dashboard. You can build new pages and blog posts or install / manage Plugins and Themes via the sidebar menus.  You can create custom blog posts using the Gutenberg block editor, and modify page elements easily.
There are many business-related Themes and Plugins available, created for a variety of purposes, including small business websites. These include free solutions as well as premium themes and plugins with more sophisticated features.  WordPress provides a wide range of tools that allow you to build most websites using the right theme and plugins.
You can utilise various types of themes or plugins depending on what kind of business you are running. For example, WordPress plugins such as WooCommerce are great for establishing an online store, while plugins like WPForms are excellent for creating a contact page.
Most WordPress sites rely on various plugins for crucial features. We suggest downloading a security plugin like All In One WP Security, a search engine optimization plugin like Yoast SEO, and a Backup plugin such as All In One WP Migration (which also helps you move your website if you desire).
It is vital to keep your website operational. Maintaining your website correctly is the best way to keep it functioning and we do this for you on a regular basis. Having a WordPress platform makes it easy to handle crucial website maintenance tasks, including taking regular Backups. Call Terry on 0468 420470 for a totally FREE discusion on why WordPress For Small Business Websites should be the choice for your business!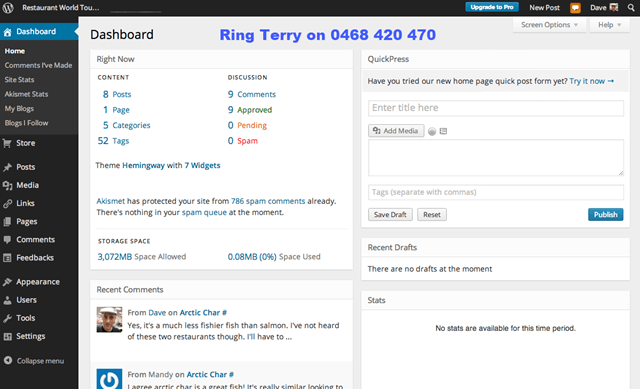 WordPress also provides a maintenance capability that notifies visitors to the website if you are making important alterations to your website. This consequently prevents users from having a poor perception of the website if it is nonfunctional or if there is a malicious link present. This is also helpful while we are creating your website because we can have a "Coming Soon" page in place – Like houses, websites do not look real good while they are under construction.
It is important for a website to be SEO-friendly.  SEO (Search Engine Optimization) is a popular technique for getting organic traffic to your website, and the only free method. It is an effective online marketing technique for small business websites because it requires little cash investment BUT it is not easy (we have expertise and experience in SEO).
We can set up Google Adwords for you but this tends to be pricey.
WordPress is already setup for SEO as a blogging platform. By using WordPress, you can improve your site's searchability by accessing features like keywords, descriptions, link structures and appropriate images. You can improve your SEO ranking by using the right SEO tools and plugins – We use the Yoast SEO Plugin as a matter of routine. However, keep in mind that it takes time for SEO to show results and requires significant effort. But it is a great way for a small business to gain more visitors and improve results.
Fast and responsive servers are a Must-Have! It is essential to have fast-loading, responsive web pages in order to provide a great user-experience. Customers may leave your website if it doesn't load in 3-5 seconds or if it doesn't show up properly on their chosen device. Choosing the right hosting service and using caching plugins are just a few of the ways you can speed up your WordPress site. To get the most out of your WordPress platform, you should approach it the right way.
A mobile-friendly website is also crucial for success. However, WordPress themes accommodate a wide variety of devices and provide a pleasant user experience.  We test across Desktop computers, Laptops and Mobile devices.
In conclusion, building a small business website – using the right platform – is critical to the success of your business. Due to its popularity and versatility, WordPress can be an excellent choice for building an online presence for a small business.  We can train you in WordPress or we can do it all for you.  Ring Terry on 0468 420 470 for free Consultation now!
If you want to have a shot at it yourself, here is an in-depth Video you can follow along with.  Good Luck!
We can also create Business Videos for you at highly affordable prices – Having a Video on your website and also on Youtube gives you TWO chances on getting found in Google Results.  In addition, a Video on your website improves the chances of ranking the website.  For further details, please visit http://www.videomarketingservices.com.au
Back To Gold Coast Local Business Websites Home Page
Call Terry now on 0468 420 470 for a Free Consultation on WordPress For Small Business Websites!